Meet Alexander Sepper, MD, PhD OBGYN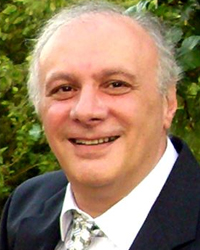 Dr. Alexander Sepper has been working as an OBGYN for over 35 years and has worked with thousands of women with fibrocystic breasts.  He holds a PhD in Thermology, Oncology, and Radiology. 
This simple system for the physical improvement of Fibrocystic Breasts has been proven through the use of thermography.  Now before and after images can show your improvement.
Dr. Sepper is the leading authority on thermographic imaging and how it relates the female body in the world. He has studied hundreds of thousands of women in his gynecological practice using thermal imaging. He holds a Ph.D in Thermology. He has joined PACT to see that his life's work and passion is utilized in the current battle against cancer.
Experience:
Senior Interpreter, Breast Thermography International
Fellow of the Professional Academy of Clinical Thermology, 2013
 Research Scientist 1996 - 2013; New York
Development of new forms of Biologically Active Nanocomplexes and Drug Delivery Systems
 National Center of Oncology
Senior Scientist and Medical Doctor; 1985 - 1994
Research Department of Tumoral Thermogenesis
Tbilisi, Rep. of Georgia;
Development of analytical criteria for differential diagnosis between inflammations and tumors based on the digital processing of thermovisual information
 Scientist and Medical Doctor 1978 – 1984
Evaluation of pathophysiological mechanisms in breast cyst formation determined by hormonal dysfunctions of different genesis.
 Clinical practice at the Department of Mammology
National Center of Oncology, Tbilisi, Rep. of Georgia
 Thermovisual screening and data analysis of breast and ovarian tumors among 18,000 workers of chemical plant
Rustavi, Rep. of Georgia.
 Clinical Practice at the Department of Gastroenterology
Republican Central Hospital, Tbilisi, Rep. of Georgia
 Ph.D in Thermology, Radiology, Oncology
Dissertation: Study of ovarian cancer tumors and thermal imaging
 48 published scientific works.
29 published works in Medical Thermology.
4 Methodological Recommendations in the field of Medical Thermography.
17 Rationalizing Proposals
2 Inventions in Medical Thermography.